Community theatre has a positive influence on people of all ages, which is why it's grown to be one of the nation's most popular art forms. Teresa Stanley, who has performed on Broadway, in movies and onstage regionally across the Suncoast, experienced that lasting impact as a child. For 92 years, The Players Centre for Performing Arts has offered everyone on Florida's Cultural Coast an outlet to explore their creativity – and Teresa is one of those individuals!
Your generous donations to the Center Stage Capital Campaign, our initiative to build a permanent performing arts home in Lakewood Ranch, helps us reach more people like Teresa. The stage is hers to tell how the community's future stars you in this two-part Q-and-A.
Q: How did you find community theatre?
A: My Mother, Rosa Lewis, taught me all she knew about singing. She taught me by my singing in church with her. After we relocated to Sarasota from Panama City, I started singing more in this area.
There was a production of Purlie at The Players Centre. Nate Jacobs was directing, and he asked me to audition singing numbers from the show. I took the cassette tape and learned "I Got Love" and "Purlie." I was 14 years old when I got the starring role as Lutiebelle Gussie Mae Jenkins. The experience changed my life forever.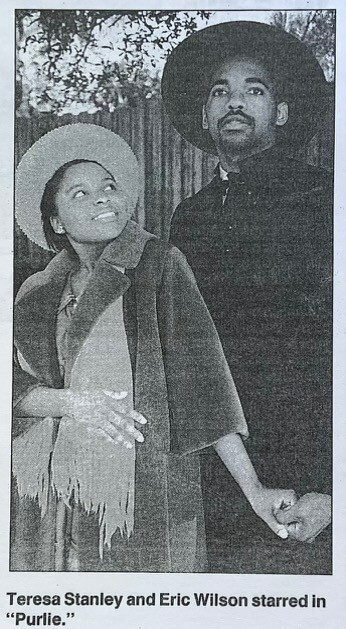 Q: How does an organization like The Players Centre positively impact the community? 
A: For over 90 years, The Players Centre has impacted so many lives. As this rebirth process is happening, keeping in touch with the heart and soul of the vision is so important. The performing arts can make a better world. The entertainment industry shifts mindsets – especially through music and content that reminds us of how we all connect to and feel that light in our souls.
The reason why so many of us leave the theater feeling hope, happy, free, tingly inside, inspired and seen is because entertainment helps us take a heartfelt look at different cultural experiences through representation and love. We celebrate different cultures, and our differences are more alike than we think. We focus on touching hearts – everything starts with the heart.
The works of art that The Players Centre presents, while having fun and dropping seeds of excellence, should remind folks of what's most important: love, family, integrity, following your dreams and enjoying life. That makes the work ethic and everything else fall in place. 
The Color Purple impacted my life in that way. Everybody from the ushers, cleaners, musicians, performers, directors, writers, conductors, light designers, sound technicians and even the stagehands – everybody involved loved what they were doing. Everybody worked together bringing the excellence of their gifts to the table so that it could be a great show every night. Many folks, to this day, share about its life-changing effect on them. 
My hope is that the seeds The Players Centre has already planted continue to grow and evolve in ways that nurture epic changes in the heart of the community over and over again. I think loving what you do, striving for higher levels of excellence and welcoming a larger world view are the keys to 90 more years.
Q: In what ways does community theatre leave a mark on audiences, cast members and volunteers? 
A: Community theater leaves an infinite mark. When love, family, diverse cultural representation, learning, good work ethic, fun, honor, respect, truth, soul and a safe environment are mixed, it feels like home. And not just for artists, but for all people who believe in changing the world for the good.
One experience in a theatrical community can help others build better foundations for their personal lives and careers. Participation in the arts makes us better human beings. 
Q: Why is donating to the Center Stage Capital Campaign important?
A: It's worth the investment.
My life and the lives of so many others have been greatly affected because of our experiences – great and small – at The Players Centre. It takes producers, financial backing from the city, those with a little bit and great hearts to build an artistic environment that flourishes beyond the investment.
Abundant seeds cultivate growth in more ways than one. The Players Centre's legendary service to this community speaks for itself. I know many others would love to donate and be a part of this legacy.
Add Your Heading Text Here