Teresa Stanley was 14 years old when she first got involved with The Players Centre, landing the star role of Lutiebelle Gussie Mae Jenkins in Purlie. It was an experience that she says changed her life forever and was the start of a performing arts career highlighted by extensive Broadway roles, onstage appearances at regional theatres and more. Teresa even served on The Players Centre's board and now teaches our private voice lessons via Zoom!
Playing your part in our Center Stage Capital Campaign helps us reach more people, like Teresa, across Florida's Cultural Coast. Here's the second act of our two-part Q-and-A with Teresa, who explains how the arts impacted her life – and why your partnership with us, amid our expansion, is so important!
Q: Overall, how have the arts impacted your life?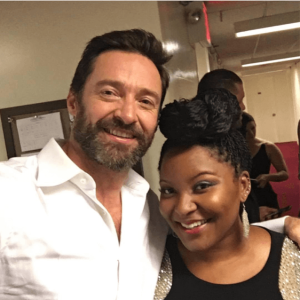 A: The Performing Arts is very sacred to me. Growing up, my mom helped me understand the importance of my faith. She helped me build a firm foundation of love and prayer. She taught me how to use my divine gifts to be a blessing to others. She'd say, "Remember… You are the gift."
That connection to the light within carried me to The Players Centre, Asolo Repertory Theatre, Sarasota Opera House, Westcoast Black Theatre Troupe, the Oscars, movies, the Met, Broadway's The Color Purple, Rock of Ages and much more. I performed on stages with stars such as Chaka Khan, Hugh Jackman, Fantasia Barrino and so many other greats.
Following my heart and soul changed the way I see the world. 
My mother was raised in the country. Her desire and drive to conquer her dreams was passed on to my brother and I. Seeing her work nights to care for us as a single mother instilled the desire and drive it took to follow my dreams. I've always been so inspired by her and all the folks who saw the light in me.
They helped water the seeds to success my mother planted. This journey has taught me so much about life and a lot about how things work behind the scenes. Most importantly, it gave me a greater appreciation for humanity. It showed me how precious life is. I'm honored to say that the performing arts was the vehicle to all these things and more.
Q: What motivated you to remain involved with The Players Centre?
A: Looking back, the opportunities I've been blessed with were priceless. I've always had a desire to show gratitude in some way, going back to different people and places to say, "Thank you." 
When Amy Weinberger told me about an opportunity to be a part of the advisory council for a while, I thought it would be a great chance to share what I've learned. I had to pull away for some fun gigs and just participated in the play selection committee's meeting for the coming season. I've been vocal performance coaching a little as well – I love sharing and full circle moments. 
Q: How does The Players Centre's move to Lakewood Ranch promote the arts regionwide?
A: Sometimes I take a drive to that area just to feel where it's headed. Honestly, the move there will be innovative because there's not much live entertainment that way. All over again, The Players Centre will be initiating a change for the arts in that area and the southern region. It's closer to the highway, so surrounding areas will be more interested in coming and participating. 
This larger facility will give more jobs and creative opportunities to the people in our community, promoting expanded outreach and great entertainment for our area and beyond. Although Sarasota is known for its artistic community, there's always room for more.
Over 90 years deserves a bigger platform. It just feels like Sarasota and the Lakewood Ranch area are becoming Florida's Hollywood. It's a great plan to be there.